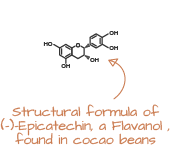 Scientific Framework
Project Scope
In order to gain a comprehensive and in-depth understanding of the function and delivery of flavanols, FLAVIOLA focused on a broad range of complementary aspects.

We did analyse the uptake, bioavailability and metabolism of dietary flavanols from a variety of food matrices. Of particular interest was the potential variations caused by range of aspects including susceptibility, age and gender (inter and intra-individual variability).

In so doing, this research did set the stage for the targeted delivery of nutrients to their cellular and/or sub-celluar site of biological action and, as such, the development of health-promoting food delivery tools.

The project was divided into six work packages (WP), with each research partner leading on one or more aspects of the research:
Scientific Methodology
A challenge faced during earlier research in this area was the difficulty of attaining an accurate measurement of flavanol intake in urine or blood. Previous methods relied on data from high performance liquid gas chromatography (HPLC) where samples had already begun to decay during the preparation stage. In order to address this issue, FLAVIOLA established two highly sensitive HPLC analytical platforms dedicated to the identification of flavanols based on fluorescent detection. This was based on a cutting-edge protocol that allows a highly accurate assessment of flavanol concentration in human blood following oral ingestion. In addition, this new protocol provided detailed information regarding the structure and concentration of flavanol metabolites. "Our method minimises the loss or degradation of flavanols and metabolites during sample preparation" commented Dr. J. Spencer, Lecturer in Molecular Nutrition at the University of Reading and FLAVIOLA research partner.